Taking place at Mandalay Bay in Las Vegas on July 7-9, the new multiday event will celebrate the culture of the game during NBA 2K24 Summer League
Amazon Music to Power NBA Con Store, Offering Exclusive NBA Merchandise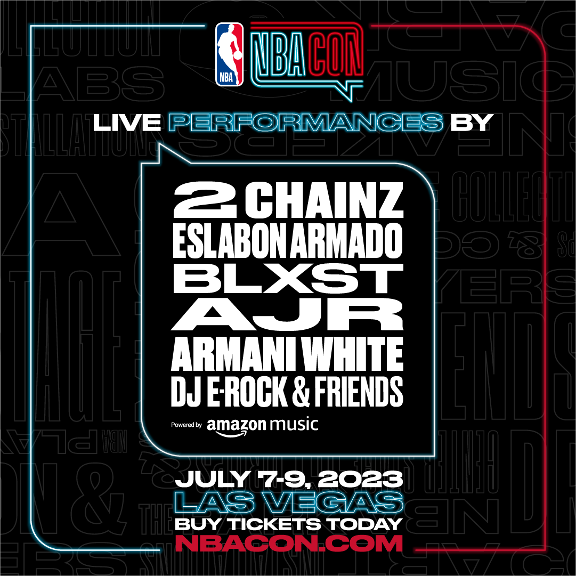 LOS ANGELES—June 29, 2023—Today, Amazon Music announced that it will curate three days of live music for the first NBA Con, held July 7-9 at the Mandalay Bay Convention Center inside Mandalay Bay Resort and Casino in Las Vegas. The lineup of artists that will perform live at the event include Grammy-winning hip-hop icon 2 Chainz, rising hip-hop star BLXST, multiplatinum indie-pop trio AJR, California-based musica Mexicana group Eslabon Armado, rapper and songwriter Armani White, and Vegas' own DJ E Rock.
Amazon Music will also power the NBA Con Store, which will offer exclusive merchandise to bring fans closer together with their favorite players and teams. Available at the event, this merch will include never-before-seen apparel for all 30 NBA teams and official NBA Con gear.
NBA Con is a first-of-its-kind event that blends the interests of NBA players and fans into a celebration of the best of hoops culture, and will feature exclusive performances from artists who have inspired the sport and soundtracked its most important moments. Additional artists performing at NBA Con will be announced over the coming weeks. Tickets for NBA Con are on sale now at NBACon.com.
"More than any other sport, basketball has always gone hand-in-hand with music. From hyping up players before the game to soundtracking highlight reels, music has always been the fuel for athletes' ambitions," said Sean McMullan, director of artist product and services for Amazon Music. "The inaugural NBA Con will bring fans, artists, and athletes together under one roof to celebrate all facets of hoops culture, and Amazon Music has worked hard with the NBA to curate showstopping performances and exclusive merchandise for attendees."
"The first-ever NBA Con is all about bringing the league, its players and fans together through shared interests," said Joey Graziano, Senior Vice President of Global Event Strategy and Development, NBA. "Fashion and music are essential to the culture of the league, and we are thrilled to work with Amazon Music to help us bring the best of both to NBA Con."
NBA Con will bring together the fashion, music, food, art, and technology that make the NBA a cultural phenomenon into a three-day event, highlighted by the game's brightest stars and biggest personalities. Appearances will include legends and current NBA stars like six-time NBA champion and Naismith Memorial Basketball Hall of Famer Kareem Abdul-Jabbar, the Minnesota Timberwolves' Mike Conley, the Indiana Pacers' Tyrese Haliburton, the New Orleans Pelicans' CJ McCollum, the Atlanta Hawks' Trae Young, the San Antonio Spurs' Victor Wembanyama and the Portland Trail Blazers' Scoot Henderson, with more names to be announced.
NBA Con tips off the opening weekend of NBA 2K24 Summer League, which begins 10 days of NBA action on Friday, July 7. The NBA 2K24 Summer League will showcase the league's top young players, many of whom are taking the floor for the first time in an NBA uniform. The event features a footprint at Mandalay Bay's Convention Center that is nearly 400,000 square feet and is twice the size of the NBA Crossover fan event held during NBA All-Star Weekend 2023 that welcomed more than 50,000 fans.
The NBA has partnered with Emerald Holding, Inc. (NYSE: EEX), the largest U.S.-based producer of trade shows and their associated conferences, content and commerce, to bring NBA Con to life.
Click here to register for media credentials.
For tickets to NBA 2K24 Summer League and for more information on NBA Con, including the latest activations and appearances, follow @NBASummerLeague, @NBAConOfficial, and visit NBACon.com or NBAEvents.com. Premium experiences for NBA 2K Summer League and NBA Con—including small group gatherings with NBA Legends, custom merchandise, and hospitality—are also available at NBAExperiences.com.
About Amazon Music
Amazon Music is an immersive audio entertainment service that connects fans, artists, and creators through music, podcasts, and culture. Amazon Music brings fans closer to what they love, with curated and personalized playlists, artist livestreams, artist merch, and Amazon Exclusive podcasts. Prime members get access to over 100 million songs in shuffle mode, All-Access playlists, plus the largest catalog of top ad-free podcasts, included with their membership. Customers can upgrade to Amazon Music Unlimited for full, on-demand access to 100 million songs in HD and a growing catalog of Ultra HD and Spatial audio. Anyone can listen to Amazon Music by downloading the free Amazon Music app, or wherever they listen to music including Alexa-enabled devices. Learn more at www.amazonmusic.com.
About the NBA
The National Basketball Association (NBA) is a global sports and media organization with the mission to inspire and connect people everywhere through the power of basketball. Built around five professional sports leagues: the NBA, WNBA, NBA G League, NBA 2K Summer League, and Basketball Africa League, the NBA has established a major international presence with games and programming available in 214 countries and territories in more than 50 languages, and merchandise for sale in more than 200 countries and territories on all seven continents. NBA rosters at the start of the 2022-23 season featured 120 international players from 41 countries. NBA Digital's assets include NBA TV, NBA.com, the NBA App, and NBA League Pass. The NBA has created one of the largest social media communities in the world, with 2.1 billion likes and followers globally across all league, team, and player platforms. Through NBA Cares, the league addresses important social issues by working with internationally recognized youth-serving organizations that support education, youth and family development, and health-related causes.
About Emerald
Emerald's (NYSE: EEX) talented and experienced team grows our customers' businesses 365 days a year through connections, content, and commerce. We expand connections that drive new business opportunities, product discovery, and relationships with over 140 annual events, matchmaking, and lead-gen services. We create content to ensure that our customers are on the cutting edge of their industries and are continually developing their skills. And we power commerce through efficient year-round buying and selling. We do all this by seamlessly integrating in-person and digital platforms and channels. Emerald is immersed in the industries we serve and committed to supporting the communities in which we operate. As true partners, we create experiences that inspire, amaze, and deliver breakthrough results. For more information, please visit emeraldx.com.
NBA Media Contact:
Stuart Bryan
Senior Director, Global Partnerships & Corporate Communications
National Basketball Association
Emerald Medis Contact:
Beth Cowperthwaite
SVP, Communications
Beth.cowperthwaite@emeraldx.com
Amazon Music Media Contact:
Briana Claiborne
Industry PR Specialist